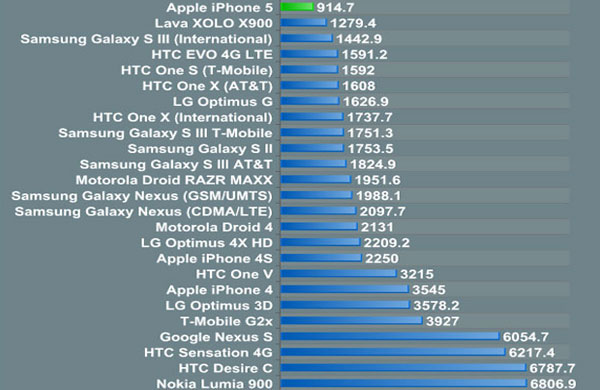 iPhone
According to the findings of a recent study, Apple's iPhone fares better on reliability ratings compared to several leading smartphone manufacturers. The report has been prepared by FixYa, a well-known product Q & A website. The website compared customers' feedback on a number of factors to determine whether the iPhone was perceived as more reliable compared to smartphones manufactured by Nokia, Motorola and Samsung.
A total of 722,558 complaints from users were studied on the FixYa website and the results were combined with data about the market share of each of these companies. The purpose was to develop a measure that would help the researchers to assess the reliability of each of these devices.
Purpose of the Study
The CEO of the FixYa website, Yaniv Bensadon, explained that the aim of the study was to explore the reliability of devices across the smartphone category instead of looking at individual brands and comparing them with one or two others. The current study, it is claimed, has successfully presented a comparison of the several smartphones available on the market, which would facilitate the buyer in determining which model to purchase. The smartphones that have been compared in this study are the Apple iPhone, Samsung Galaxy, and Nokia Lumia.
The CEO is assured that the reliability measure that has been developed is robust and a fair measure of reliability for all the smartphone under study.
The Results of the Study
The results showed much better reliability scores for Apple's iPhone compared to the other smartphones being compared. The Reliability Reporter on the FixYa website showed that Apple received a score of 3.47. On the other hand, Samsung barely managed to score 1.21 on the Reliability Reporter, which was about 187% less than the rating for Apple. Motorola did not fare too well either, and received a score that was 25 times less than the score for Apple.
Common Complaints with the Smartphones
Another positive outcome of the study is that it allows the readers to explore the issues commonly faced by users of the individual smartphones. This information was used in determining the reliability rating. It appears that although Apple has a significant lead over its rivals, customers do experience some issues with their use of the iPhone. For instance, it has been observed that many iPhone users are not satisfied with the duration of the battery life. In addition, they are also concerned about the limited features of the iPhone. There are also issues about the lack of customization for the user and the difficulty in securing Wi-Fi connectivity.
Common complaints made by Samsung users include that the microphone does not function well and the device gets hot very soon. As with Apple, there was dissatisfaction with the limited life of the battery.
Nokia users also complained about battery life and the smartphone getting hot.