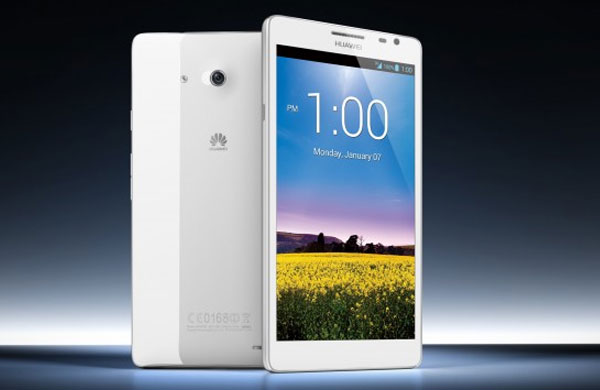 Huawei Ascend Mate
The Huawei Ascend Mate Smartphone is the latest Android based smartphone to be developed by Chinese manufacturer Huawei.
Processing System
The smartphone runs on the Android 4.1 operating system which makes it sufficiently advanced in its category. It houses a 1.5 GHz processor. The Huawei Ascend Mate is powered by a 4050 mAh battery which is simply out of this world.
It also has a special power saving feature that allows the smartphone to consume power very efficiently. Recharging the battery is also no trouble at all because it takes hardly 70% of the time that it takes ordinary batteries of smartphones to charge.
Design Features of Huawei Ascend
The Huawei Ascend Mate smartphone is 163.5 mm tall and around 85.7 mm wide; making it weigh only 198 g. this model is perfect for the mobile user who prefers economy in size as opposed to showiness. The display area is impressive and has a 6.1 inch HD screen. The display unit consists of a touch screen that is easy to navigate.
The phone also comes with a camera that is rear-facing. The 8-megapixel camera is particularly attractive because it ensures high quality pictures. The Huawei Ascend Mate smartphone comes with a range of attractive connectivity features. The phone offers Bluetooth connectivity as well as Wi-Fi connectivity, making it truly a mobile smartphone.
Sensitive Touch Screen
One of the unique and interesting features of the Huawei Ascend Mate Smartphone is the Magic Touch feature. This feature is bound to draw praise from users who find conventional touch screens difficult to use when they are wearing gloves or other protection for the hand.
The sensors often do not detect the touch pressure accurately. However, the Magic Touch feature of the Huawei Ascend Mate smartphone makes the touch screen particularly sensitive to minor pressures so that people in cold climates can also use their smartphones easily.
Easy Reading
The Huawei Ascend Mate Smartphone is the best thing that comes close to an eBook reader. It makes the reading experience extremely intuitive for the reader. Thanks to the unique Smart Reading feature, the reader can access reference websites, translation Apps and search features from the same App. This helps to avoid breaks and interruptions in reading as readers typically flit from one app to the other.
Intuitive Navigation and Handling
The Easy Panel allows the most frequently accessed Apps and features to appear on the same panel thus saving the user time in navigating across several menus to reach the feature or App that is required. In addition, the One-Hand user interface allows users to use the smartphone and navigate across the keyboard using only one hand. This makes it easier to use the smartphone when having meals.