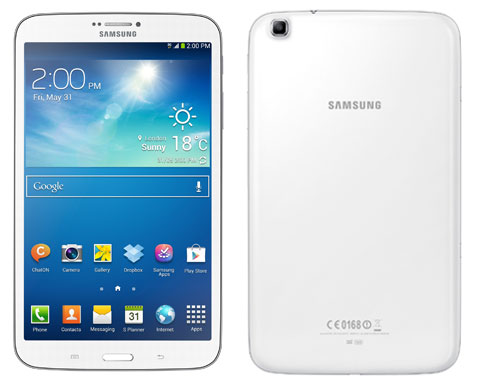 You would definitely have heard about Samsung's new launches. Mostly they were all about smartphone models but now focusing more on tablets, Samsung has announced to release three latest models of new galaxy tab on July 7th in the United States.  These three tabs are called: Tab 3 7.0, tab 3 8.0 and tab 3 10.1.
New Galaxy Tab
These new models belong from the Galaxy family and the reason of launching them altogether is to offer three different choices for all tablet-lovers. More users will be able to opt from among them. There are three varieties of screens coming out 10.1 inch, 8 inch and 7 inch. Samsung tablets are designed to suit everyone whether he/she wants it for leisure or official purposes. These models can be pre-ordered as well.
Design
Samsung galaxy has designed all the three models varying in size and structure for baiting larger number of customers. there is a price difference also like the 10.1 inch model is for $ 399, the 8 inch screen tablet is available for $299 and the 7 inch model demands $ 199. There are new personalized experiences offered in Samsung Galaxy tabs. These three tablets are perfectly catering to the demands of advanced and new users. Tablet is a best companion to smartphones which could be used in both ways: amusement and assignment.
The new era's devices are many and tablet is one of them. A research done in the USA unveils that 49 % of the mobile plus tab owners prefer tablet for internet connectivity. There are other unlimited uses of the tablets today and Samsung Galaxy Tab 3 portfolio is ready to suffice all needs via its latest upcoming launch. The vice president of Samsung Tablet marketing, Travis Merrill confirmed that the fourth coming tablets are going to rock all as this collection will vary in size, shape, prize & specifications.
Appearance
Galaxy tablets are designed according to the demands of this age; they are glassy and slender. They are invented to match the Galaxy Smartphones, various phone buttons are added to them. Like all other Samsung gadgets tablets also have luxurious appeal and stunning design.
Good For Taking Away Anywhere
Researches show that 85 percent people like to use tablets along with watching television. Keeping this in mind, the Samsung 3 tab portfolio tablets have a IR-blaster inside which will turn it into a remote control instantly. It will activate the Sumsung's new WatchON supply. It will help customers choose programs and demanded content.
Featuring
The latest Galaxy family has unveiled SAFE, a feature that makes sure your e.mails, photos and content is secure so that you could work or play without tension. It also entails expandable (up to 64 GB) memory via microSD storage.
Tab 3 7.0
This model is designed to target those users who want a portable device for staying connected all day long.  It is sleek and stylish enough to be fitted in the bags or even in jackets and transported anywhere.
Tab 3 8.0
It is similar to the 7.0 model with all the contents and features but best for the E.Readers. it has multi-window characteristic furthermore, to open up two applications at a time.
Tab 3 10.1
Tablet 10.1 is over-sized and thus fun-packed. It is the latest hub of entertainment on earth. It is perfect for watching movies and playing games.