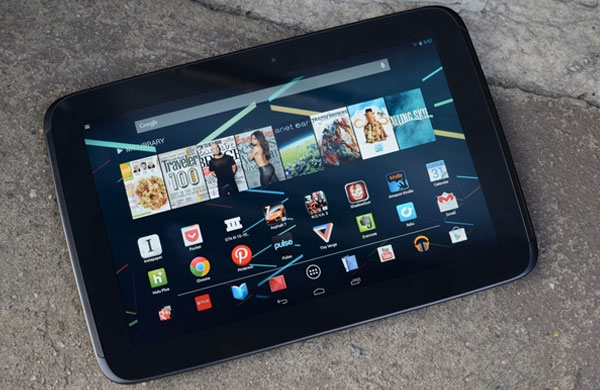 Google challenged the lion in its den with the launch of Samsung Nexus 10 " tab where once iPad reigned only.
Samsung Nexus 10
It is a wonderful novelty offering Retina Display 10'' 2560 x 1600 display, latest Exynos 5 dual-core processor; modern Android Jelly Bean and a reasonable price tag of just $400. This Google brand has a lot of future updates guarantee in it.
Hardware
Nexus resembles a lot to Nexus 7, as far as the hardware is concerned. It has a plastic cum rubber finish. The corner has some multitask and Home keys plus front-sided speakers that are better in performance than other tablets of its like. It has a soft-touch plastic that makes it possible to hold it with a firm grip.
Nexus 10 is wider than iPad 4 in measurement; and has improved in thickness and weight now. Nexus 10 is neither weighty nor thick anymore. There are standard ports included at the top-left side (placing is a bit awkward although)in it for instance a 3.5 mm headphone jack,  microHDMI , micro USB, a lock button plus a volume rocker.
Specs
Nexus enjoys a 5 megapixel at the rear and 1.9 mp at the front. The back also has LED flash which could shoot 1080p video. The front-sided camera is perfect for a live chat or conferencing while its rear camera challenges some contemporary smartphone cameras, as it produces a 9/10 result.
Some critics say that the best feature of Nexus 10 is its screen only which involves an excellent resolution of 2560 x 1600; it comes with Android 4.2 Jelly Bean and means a perfect and smooth performance. It has some additions also like multi-user support, Quick Settings menu and keyboard plus gesture-base input.
But like many 10'' android tabs, it does not have so many applications to offer; moreover some app does not work right on such as Twitter.
It is a latest Cortex A15 based gadget, with Exynos 5 dual-core 1.7 GHz processor with 2GB RAM and 16 GB or 32 GB storage. It supports 9000mAh battery which lasts for eight hours. It could be improved but the present timing is also fine for a normal use.
Cons
There are certain disadvantages associated with it as well like its processor is prone to reboots or freeze randomly. Rubber-finished Nexus 10 might not appeal some of the customers plus it has a slouching connectivity. Moreover, it does not support mircoSD card slot and the greatest you could avail is only 32GB.
Conclusion
Samsung Nexus 10 has a superb screen, luxury specifications along with reasonable price. Although Jelly Bean is a standard OS for tabs today, but it lacks proper app support. Still the top-class hardware attracts many customers to buy it.