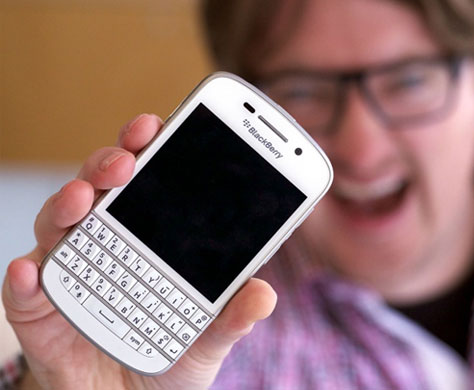 Blackberry Q10
Launching a modern Smartphone with a physical keyboard is a good idea for those who are not "Touchscreen types". It is a "messaging demon" with a perfectly designed QWERTY keyboard for you to enjoy texting day and night. Blackberry Q10 is available in the markets now for $ 199.99 with lesser features to offer other than a well-made keyboard and sharp average-sized screen.
Pros
Elegant Style
Crystal-clear screen
Immaculate QWERTY keyboard
Cons
Average camera
lesser apps
Although Blackberry Q10 has brought the trend of QWERTY keyboard back but it still needs to compete with other leading Smartphone companies.
Features of Blackberry Q10
Consider the older Blackberry Bold 9900 model with a little advancement, Q10 resembles it. It is 4.7x 2.6 x 0.4 inches (HWD) weighting 4.9 ounces. It is basically designed for frequent-keyboard use. Z10 is its opposite, which is bigger than it and has a full touchscreen feature.
Blackberry Q10 display
Q10 display is 3.1 inch 720 x720 pixels plus a QWERTY keyboard as mentioned before. There is a conventional Blackberry notification lights which blinks near the earpiece.
Its rear is made up of "Woven Glass" (According to RIM) or material which is softer and like fibers, consisting of grey-black patterns. There is also a white colored model too.
Bold 9900 Model
In Bold 9900 model you saw QWERTY keyboard which was not wide enough than this latest arrival. It stretches from edge-to-edge. The keyboard has four-rows and they are not congested like ordinary phones rather separated enough to make typing a joyful experience. The space bar is big enough to give you sensation of using a "real" keyboard at least for a while.
Blackberry Touch Tech
Its touch is smallish, but has amazing colors to deliver thanks to the AMOLED technology which made sure colors are punchy and flashy enough to appeal customers.
New Blackberry Phone is alright when it comes to voice and calling. But the quality could be improved. Sound gets muddier when you increase the volume. There is some background noise sometimes when you call. Its transmissions are also okay but not wonderful. It supports LTE plus International HSPA+ networks along with having a Wi Fi, Bluetooth 4.0, mobile hotspot, NFC and GPS etc.
It offers 11 hours and 6 minutes of reasonable talk time with 4 hours and 14 minutes of LTE video streaming. It means you can use it the entire day without any trouble and recharge it at night or the next day.
Blackberry Q10's Performance
Q 10 gets Blackberry OS 10.1 along with some latest high lights like it involves a new Internet Browser along with Flash aid; BlackBerry Hub which has major social media sites like Facebook, LinkedIn and Twitter plus "Remember" which is a note-taking app.
In a Nutshell
Blackberry Q10 is best texting & official use because of its updated OS 10.1 and striking QWERTY keyboard for it is still lacking in features and performance albeit being a latest Smartphone.
"THE Q10 ITSELF IS A GREAT PHONE, LOVELY IN NEARLY EVERY WAY, BUT IT'S MEANT FOR BLACKBERRY FANS AND NOT FOR ALL CONSUMERS." (TECHNOBUFFAL).