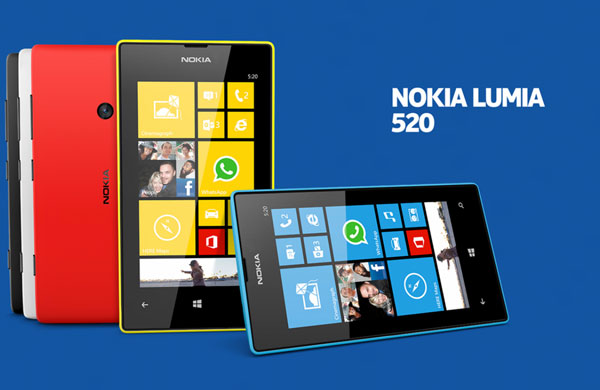 Nokia Lumia 520
The Nokia Company has produced endless cell phone devices as early since the 90's. From the basic mobiles with big flat screens and bulgy keys to slim and smart cell phones, with touch screens and grasping features. The Nokia Lumia 520 is the Nokia Company's fifth handset mobile with Windows 8. When it comes to Nokia, the only competitor for Nokia is itself. The Nokia company keeps on reproducing latest smart phones one after the other, each of which the new one is better than the first. In terms of competition, with android Company's it now has little or no competition left.
Features and Design of Lumia 520
The Nokia Lumia 520 has a large flat screen surface, and a display of 3.9 inches. The Nokia Lumia 520's screen is larger as compared to Nokia Lumia previous one. It has a relatively useful RAM memory. Some people have described it to be insufficient and less, on the other hand other people have commended on its ability of cost efficiency. The Nokia Lumia 520 price is much lower than cost estimates. Keeping that in mind, it's a pretty good bargain getting what you're getting in this phone. This tagged along with decent network and communication features as well.
Available in many Colors
Like all other Nokia cell phones, this one is also available in a wide range of colors, and other aspects. The colors are deeply vast and wide scaled. The colors of Lumia range from shades of Yellow to red, green, black and plain white as well. Lumia is one of those cell phones that makes the user feel like it's their custom device. They are liable to make their own changes, add or remove anything they want. Features of their choice such as color, background and applications may indulge the user's interest towards this android device more.
Nokia Lumia 520 & Lumia 620
The Nokia Lumia 520 is better than the Nokia Lumia 620. In ways such, that it has a less weight. However, it has a larger surface, but that's understandable since it also has a slightly larger screen than the Nokia Lumia 620. According to different opinions, this phone is rather hard to handle, and go about. It's not the type of cell phone you would take to office, or accompany in casual gatherings. Others argued that it's perfect for every occasion. It has a thin rectangular surface that is angular and gives off an extremely class look, making it acceptable everywhere and anywhere.
Lumia 520 – A Partially Successful hit by Nokia
The Nokia Lumia 520 is has great compatibility, and user interaction. According to several reports it has great reliability. The user interface is commutative, and very appealing according to many. It is thought to be idea, in terms of convenience and easy hold over its features and applications. The user once adapted to the style of the Nokia Lumia 520 will enjoy the experience of using it. Most Nokia Lumia users don't give up on the cell phone, even long after purchasing it. It's attractive and stylish ways have hit the market, and the people at a high rate.