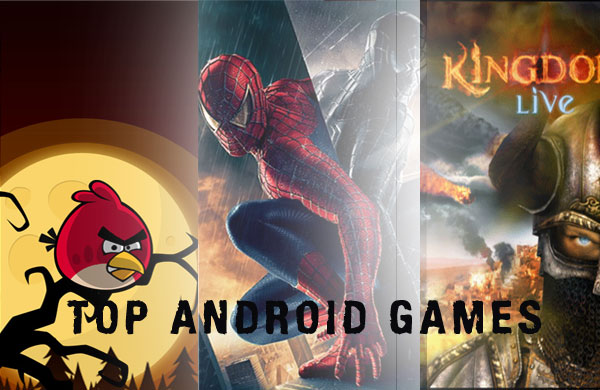 Games For Android Phones
Android has been fast becoming a viable threat to the dominant established mobile platforms like iOS, Symbian and Windows mobile. High end android phones are capable of rendering graphic intensive 3D games effortlessly. Already, there is a plethora of games available and the list continues to expand. So, I thought it pertinent to jot down the top 3 games for android phones:
WWE 2K18
We are adding the fourth game as the best game to all android users. This one is best when it comes to high-level graphics. One should must have this WWE 2k18 APK on their devices to enjoy their free time. WWE 2K18 is one of the great game from 2k game developers. It's the best game for less RAM android devices too and no worry of hanging the device with the game.
Kingdoms Live
Kingdoms Live has the distinction of being the most articulate and detailed MMORPG available on android platform at the moment. This game has already garnered critical and fan acclaim, and so far has 1.5 million gamers hooked in quest to forge their own kingdoms through heroic deeds. The graphics and visuals are stunning and so is the premise of the game that starts the player off as a mere peasant! From there, the player has to arise to form his very own kingdoms, acquire lands and run an economy. The game contains all the staple elements of MMORPG including three races and three classes to choose from. There's a vast selection of armor, weapons and spells to keep even the most demanding fans busy.
Spider man
To be honest, with all the hype and fanfare surrounding this particular comic book character, the game had a lot to live up to and it did! The developers, Droid Hen, have done an excellent job rendering ingenious levels where spidey gets to battle all the well known villains as stage bosses. There are lots of combos to be learned and upgrades to be purchased, which make Spiderman more effective and efficient when facing tough foes like Doc Oc, Green Goblin and Venom. The Spiderman universe is beautifully depicted through stunning graphics and equally likable game play.
Angry Birds
I don't think this game needs any introduction! Rovio thought up of pitting a bunch of Angry Birds out to teach miscreant pigs a lesson for stealing their eggs, which doesn't seem like much of a premise. But then, the game is best known for its ability to render physical behavior of projectiles, not the story. Originally available for the iOS, the game was finally released for android recently and was an immediate super duper hit being downloaded 2 million times in the first week. Overall downloads and revenue generated by this game have defied the laws of modern retail.
So there you go folks, top 3 games for the android platform. If you own an Android phone and still don't have these games, I suggest you hurry and get them! You have no idea how much fun you are missing out on!