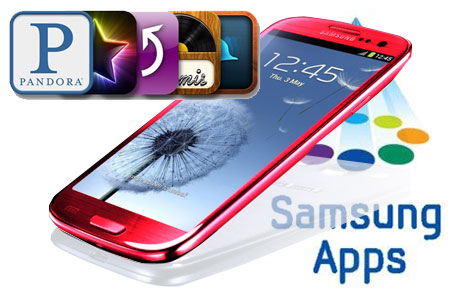 Best Gaming Apps
After much hype and fanfare, Samsung has finally unveiled their next installment in the Galaxy series, S3. S3 boasts major HD gaming support, and hence I decided to jot down the most impressive gaming apps for Samsung Galaxy S3, I have discovered for so far. Here are 4 best gaming apps for S3.
Riptide GP
A game that is able to make maximum use of a device's capability to render graphics is surely a success story. That's why you'd find Riptide GP at the top of almost every list of gaming apps for Samsung Galaxy S3. This game has it all! Detailed vehicles, real time reflections of them as you whiz by reflective surfaces and beautiful and stunning visuals that one would expect to find on a console. The game puts the players on jet powered skis, which lets those performing absolutely outlandish and reckless stunts that are highly enjoyable. The game consists of 12 adrenaline pumping levels and has three game modes. If you want to get a taste of what the game has to offer, select the race. If you desire to test out your skills against computer AI, choose hot lap, and finally the championship which is pretty self explanatory.
Shine Runner
Having developed a popular game for Xbox, nothing short of a superb visual and gaming treat was expected from the people who are responsible for Hydro Thunder Hurricane. Shine Runner is an outstanding thrill ride of a game which features HD graphics and gut wrenching escapades through muddy waters, where players get to smash up the swampy environment. The real boat steering mechanics would have you addicted to the game in no time, and the best part is, the game supports attachment of USB gamepads that simply doubles the fun! A must have gaming app for Samsung Galaxy S3.
Asphalt6: Adrenaline
There are games that you gladly pay for; Asphalt6 Adrenaline is certainly one of them. Amazing graphics, awesome vehicles and detailed tracks are just some of the features of this amazing game. Multiplayer mood has the ability to accommodate up to 6 players at a time! The controls are very user friendly and the game has inherent ability to connect through Wifi connection. There are 42 cars and bikes to choose from, so there's everything for those who prefer to mount a racing bike instead of a car. The game has a massive appeal, as it gets regular updates adding cool value content to it, which keeps things fresh. Gamers and critics have compared it to Xbox game 'Blur', because of the aforementioned features.
Minecraft Pocket Edition
Yes you read right! You can actually enjoy the world's famous Mincraft on your Samsung Galaxy S3 now. The game doesn't lose any of its functionality or appeal when ported for the mobile platform. There are 36 different kinds of building blocks at your disposal to construct whatever you can think of, and two very competitive gaming moods; creative and survival. This game will have you glued to your cellphone for sure!