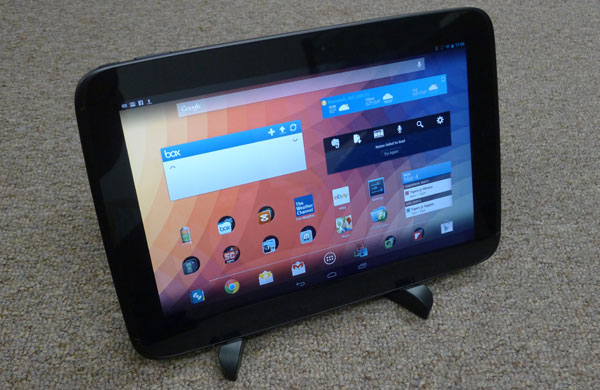 Nexus 11
Samsung & Google are working day and night to release the new Nexus 11 soon this year. Sources told that the new Nexus will replace existing model known as Nexus 10.
Introduction
This latest model will rock with 11'' screen size and some classical interior specs and lavish outer appearance. Nexus 11 is totally an up-to-date device with entirely new things to offer.
Specifications of Nexus11
The screen resolution is not yet confirmed but it will surely match Nexus 10's 2560 x 1600 resolutions or might exceed it. It will have Plane-to-Line Switching Technology (PLS) which is variant of in-plane switching tech (IPS).
Plane-to-Line is definitely a better technology that caters refined angles, upgraded quality, better brightness options and a bit more flexible. It is cheaper even if compare it with the conventional display IPS.
Of course, a better processor is also offered i.e. Exynos 5 Octa 5410 which is now used in Samsung Galaxy S4 only in some selected countries. Eight-core ARM chip is used for the first time in the world in Exynos 5 Octa processor which will adopt a logarithm latest called "big. LITTLE" by Samsung. It is actually an amalgam of four-high-performing cores with four low-power cores that will enable the tablet to opt between the two-performance and battery timing on the run.
Although it is an obscure technology in the market, but Samsung is ready to get hold of it in its future products like Nexus 11 and Samsung Galaxy Note 3 etc.
Other Features
There will be an 8 megapixel rear camera and the front will get a two megapixel sensor to have video conferences and live chat. Samsung has not yet confirmed about its internal storage but the site unveiled about its mircoSD slot option which will support up to 64GB supplementary storage. This is a great decision indeed as lacking an extra storage was the only issue Nexus 10 had.
Nexus 11 will have latest Android OS; it will either be Android 4.3 or Android 5.0 Key Lime Pie which is the Google's next generation operating system ready to stun all.
Launching
There are assumptions only about its release, some expected it to launch on the Samsung's Annual official event on 15th May 2013, while some other postulated summer 2013 is its arrival date. Now latest speculation is October/November of this year.
But in fact, the actual date is still unconfirmed as Samsung and Google have not announced it as yet.
Rumors
Nexus 11 is probably one of the most rumored tabs of this year. Its specs, release date, processor, design, display, OS, price and so on are all suspected as yet. Some call it a publicity stunt while for others it is "Too early" to say anything about it. May be Samsung is preparing something extra-crisp or neoteric which has to be hidden from others as yet.
Anyways, we belief that Samsung will treat us with its latest Nexus 11 as it always does.