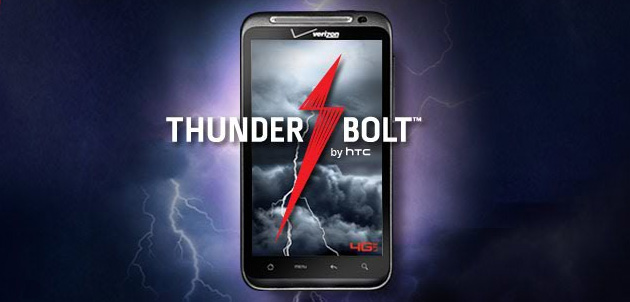 HTC Thunderbolt
The HTC Thunderbolt was launched in 2011 as the fist 4G Android smartphone by Verizon.
Design Features of HTC

In terms of design features, the HTC Thunderbolt is not unlike the HTC Evo 4G and the Desire HD, since all three are based on the same basic model. Users who are comfortable with the earlier two devices should not find any difficulty in getting used to the HTC Thunderbolt.
The HTC Thunderbolt is 4.75 inches tall and is 2.44 inches wide, which is quite a large size compared to other products in the same category. People who like to use large and fancy gadgets will find its particularly attractive, while those who prefer tiny devices may find it a bit over the top. However, it is not a difficult device to handle since it has been designed ergonomically and settles comfortably within your hand.
Display Area and Navigation
The display area of the HTC Thunderbolt is quite impressive in its own right. It has a 4.3 inch touch screen that guarantees better viewing. The screen is an 800×480 pixel resolution screen that gives sufficiently good picture quality. Despite the small size of the screen relative to other similar models on the market, the high resolution means that viewing pictures and web pages clearly is not a problem. Few users will perceive the small screen size to be a significant problem.
The touch screen is quite a development. The rate of responsiveness is better than in other models. The Apps load fairly quickly and the user interface is also very intuitive. Navigating through menus and across the screens seems to be no problem at all. Sensors within the display unit also adjust the orientation of the screen automatically when the phone is moved at an angle. This makes viewing the screen while commuting much easier.
The HTC Thunderbolt also comes with a front-facing camera. It is an 8-megapixel camera that is very easy to use. Unfortunately, photos are taken by tapping the touch screen which can be a bit awkward. It would have been a much better idea to provide a camera button on the phone to make taking pictures much easier.
Ease of Use
The HTC Thunderbolt can easily be mounted over a flat surface thanks to a strong and stable kickstand. This makes watching videos and movies while having meals quite comfortable. It is also a good way of using the speaker to make your calls without having to hold the phone in your hand. It also comes with a micro-USB port and a headphone jack.
The Drawback
One problem, however, with the HTC Thunderbolt is its low battery life. Although the 4G speed is impressive, the experience is less than what it might be because of the poor battery performance.